Please select:
Page sponsored by:
---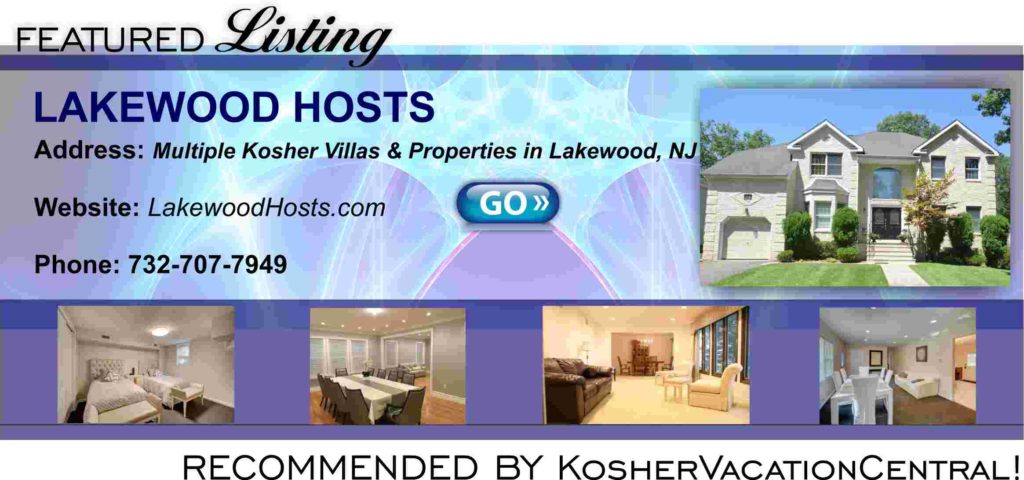 ---
Standard Hotel Listings:

Lakewood Hosts
Address: Multiple Glatt Kosher, Brand New Vacation Rental Homes, Apartments & Villas to rent in and around Lakewood, NJ
Website: www.LakewoodHosts.com

Email: Lakewoodhosts@gmail.com
Other Info: Multiple options to accommodate larger groups and families for Simchas & More!
Proud sponsors of and highly recommended by KosherVacationCentral.com

More hotels coming up…  after these helpful resources:
---


Save up to 25% on your hotel for your next vacation!

---

---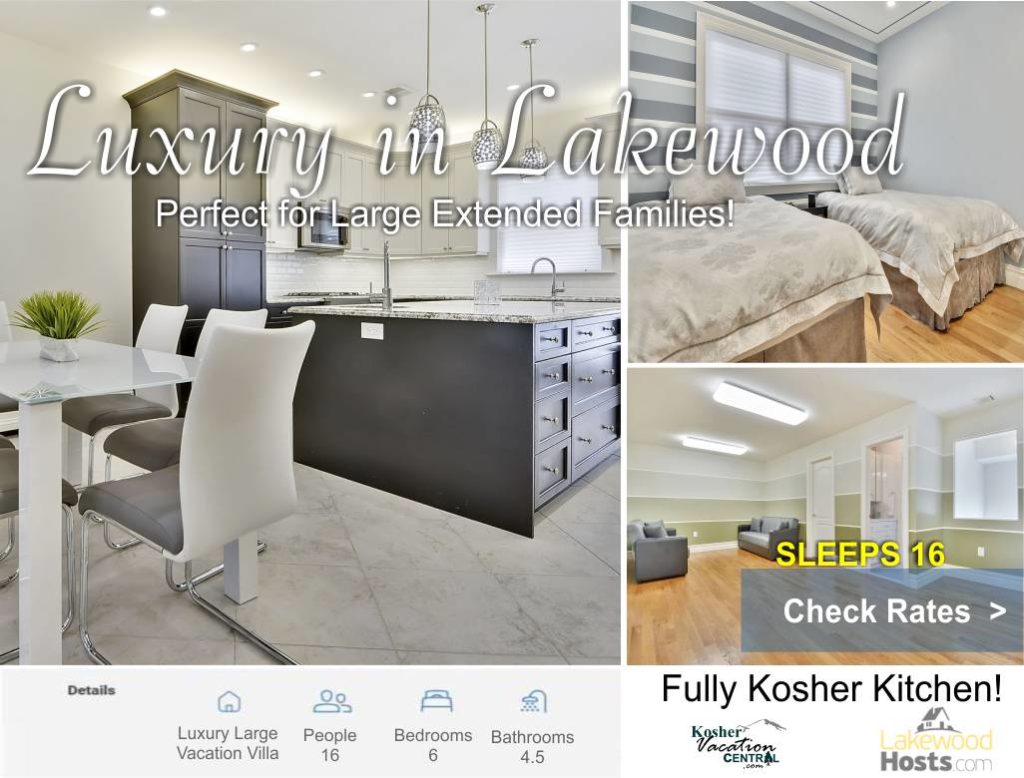 More Kosher Hotels in the Lakewood, NJ Regional Area

Le Suite Guest House
Phone: 732-456-7989
Other Info: Belz area? No known website. Luxurious Accommodations in Lakewood, booking weekday & Shabbos
Save up to 25% on your hotel for your next vacation!

Might we suggest you consider the best: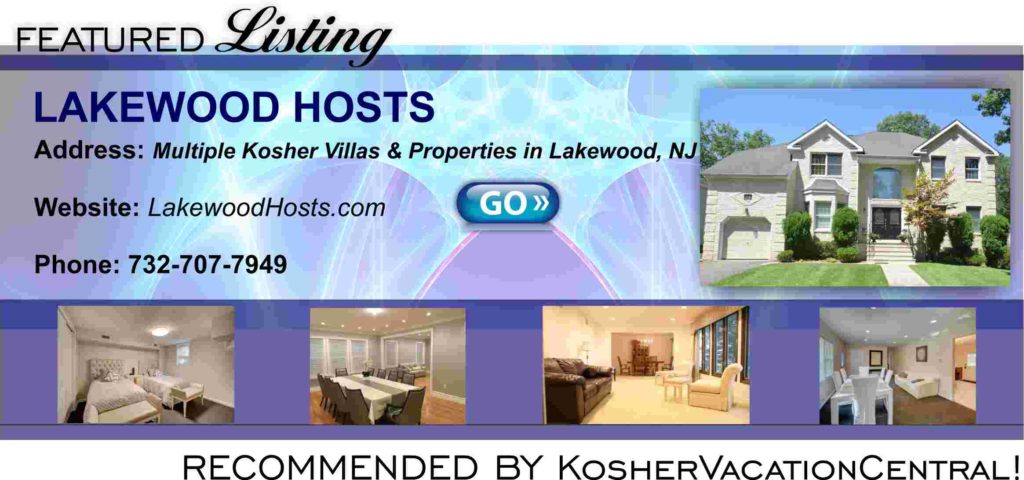 ---
---

---
 
Click HERE for a great article about Vacationing in Lakewood
---
Save up to 25% on your hotel for your next vacation!
More coming up…  after this:
---

New Jersey has a spoon museum about one hour North of Lakewood, nearby Passaic and Clifton, featuring over 5,400 spoons from every state and almost every country.
New Jersey has the most dense system of highways and railroads in the U.S.
---
Page sponsored by:
---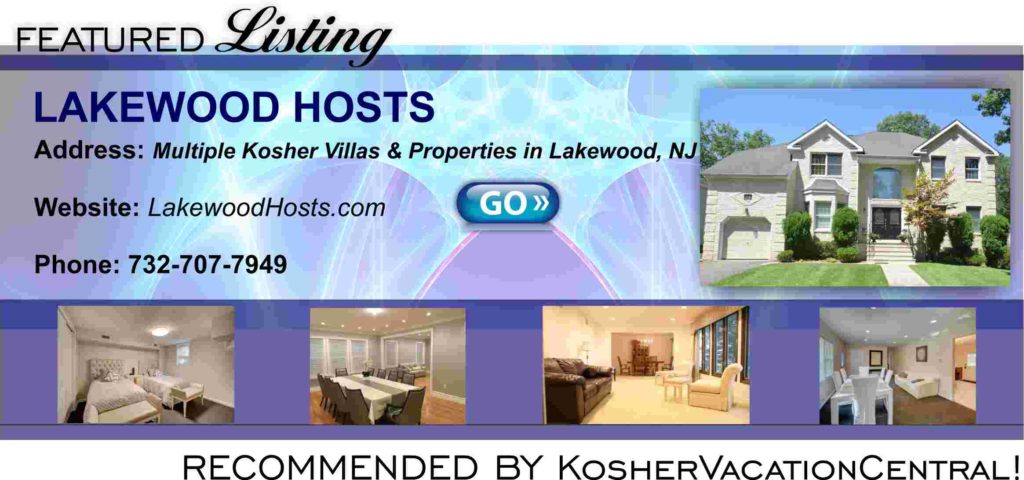 ---
When traveling to and from NY and most Northern NJ communities from Lakewood, 

avoid the Highway 1 & 9

which is notoriously traffic-ridden and riddled with traffic lights.
Although many GPS units will tell you to stay on the 1 or 9,
opt for the Garden State Parkway instead.
---

---
How are you getting there?

---
National Daily Deal!
Might we suggest these helpful travel resources for your trip?
---
Home Away – List Your Property and Make Money!

Home Away – Find Vacation Homes for Rent Worldwide!

Save Money on Parking at ANY Airport:

Find great Travel Deals and earn airline miles too!

---
Page sponsored by:
---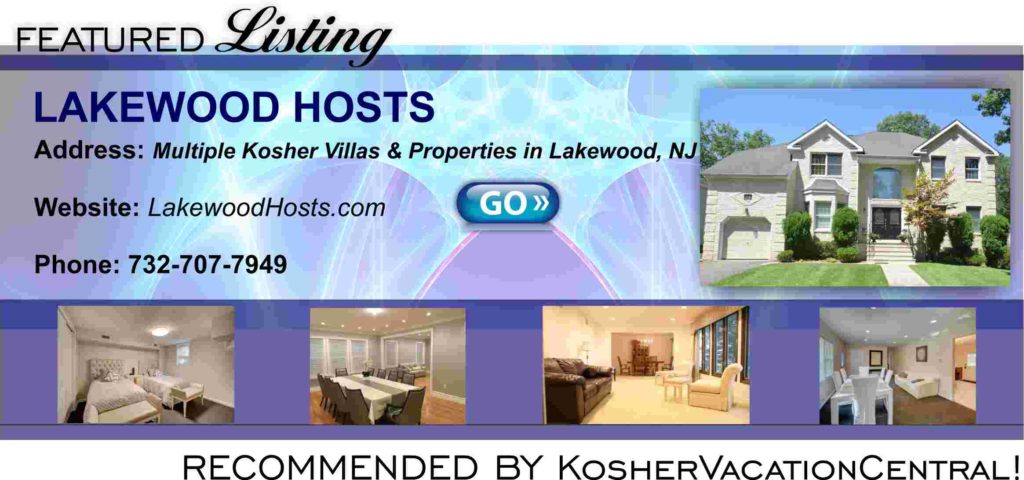 ---
---
Please note that KosherVacationCentral.com can not vouch for the reliability or definite kosher status of any establishment or kosher agency found in our site or app. We do try very hard to bring you only verified listings at the time of listing.
However, things do change and information may be inaccurate, so please do your diligence!
---
---
Copyright 2017 – This page and all of its contents are exclusive property of KosherVacationCentral.com, and may not be copied or reproduced in any format without explicit permission in writing from the administrators.
---